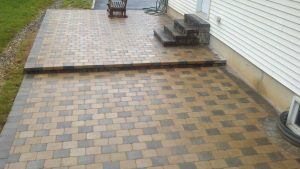 Stone Pavers can add a splash of rusticity to the exterior of your home. They come in a wide variety of  designs that will suit any home's look and style. They are also remarkably durable, can withstand extreme weather conditions, are resistant to cracking/physical damage from falling/moving objects, and most are fairly stain resistant to spills. However, like asphalt driveways, if they're not given the proper cleaning and seasonal maintenance they require, you will start to notice physical changes in their appearance over time. Here are a few simple steps you can take in order to properly care for your stone pavers and keep them looking new for years to come.
Winter Maintenance
Stone pavers can withstand freezing cold, snow, ice, and sleet here in Somers, New York during the cold winters. Winter maintenance for stone pavers is as simple as following these steps.
De-icing Products: Using the proper de-icer on stone pavers is critical and it must be applied properly to effectively melt ice and snow.

Sodium Chloride

(NaCl): Sodium chloride is commonly known as "rock salt" and will melt away ice that freezes on your pavers. It is best used in cold temperatures as low as 20 degrees Fahrenheit.

Calcium Chloride

(CaCl2): Calcium chloride is a great alternative to rock and is more effective in colder temperatures that are below 20 degrees Fahrenheit.
While most stone pavers are resistant to physical wear from de-icers, they require cleaning.
Apply de-icing products in a minimal amount to melt ice and snow.
Leftover de-icing chemicals should be swept and removed from the stone pavers after the ice and snow have melted.
Avoid using de-icers that are not recommended for stone pavers such as magnesium-based products.
Washing stone pavers after the winter season, with a simple soap and water solution, is highly recommended. You can use a power washer to effectively remove any leftover de-icing chemicals.
Snow Removal
When clearing away snow, a plastic shovel with a plastic or rubber blade protector is ideal for small walkways and patios. For larger driveways, snowplows should have rubber blade protectors to avoid scratching the pavers.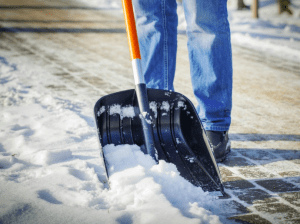 https://northernconstructionpaving.com/wp-content/uploads/2017/05/lisa-cozzi-unilock-beaconhill-almondgrove.jpg
800
1067
Joe Cozzi
https://northernconstructionpaving.com/wp-content/uploads/2020/03/ncp-logo-300x128.png
Joe Cozzi
2022-02-28 10:48:20
2022-03-20 10:28:41
Winter Maintenance And Care For Your Stone Pavers In Somers, New York