What Is A Belgian Block Apron?
Have you ever thought of removing the front of your driveway that meets the street curb with a modern, classic look? Without a doubt, you should consider having a Belgian Block apron installed. Besides making your driveway stand out, aprons provide additional structural benefits. They provide support to the surface of the driveway. Also, they're quite aesthetically pleasing to look at. In Westchester County, driveways can be problematic in areas with heavy precipitation. As a result, they may get slippery or have puddles of water start to pool on them. Belgian Block aprons are meant to protect driveways from extreme weather conditions. and help them last longer by preventing water damage.
Belgian Block Aprons
 In Westchester County, Belgian Blocks are a popular go-to for homeowners here. They're commonly installed in the place of curbs along driveways, streets, and paths. Many residential homeowners in Yorktown have Belgian Block aprons. These aprons add more than style. In addition, they also provide a visual transition from the street to the homeowner's driveway.
Why you should choose Belgian Block?
Durability
Driveways aprons constructed with Belgian Blocks are very sturdy and weather resistant. They do not crack like asphalt or concrete and are stain-resistant. Unlike other types of stone, they're resistant to erosion from rain, ice, and snow.
Curb Appeal
Adding a classic look is easily achieved with Belgian Blocks. They come in a variety of colors. Ranging from whites, greys, browns, and even reds. Most homes in Westchester have white Belgian Blocks. White is a popular choice because it compliments many different mason designs that may be on your property. In addition, the patterns and designs that can be achieved by setting them are endless which can complement your style of living and make your driveway stand out. Two common designs here in Yorktown are 90-degree Herringbone and Running Bond. Click here to visit our masonry gallery and see Belgian Block aprons we've installed for some of our clients!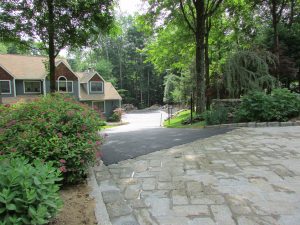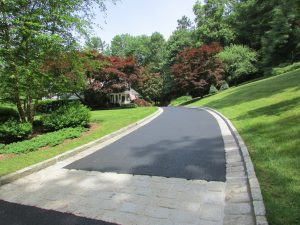 90-Degree Herringbone                                         Running Bond
Easy to Replace
Cracking and potholes can be ongoing problems for older driveways, especially where the apron meets the street. Luckily maintaining a Belgian Block apron is simpler, easier, and more cost-efficient long term. If one stone gets chipped, cracked, or discolored you can easily remove and replace it without touching the other stones.
https://northernconstructionpaving.com/wp-content/uploads/2017/05/lisa-cozzi-belgian-block-border-and-banding.jpg
3456
4608
Daniel Cozzi
https://northernconstructionpaving.com/wp-content/uploads/2020/03/ncp-logo-300x128.png
Daniel Cozzi
2022-02-28 10:18:51
2022-11-28 10:30:59
Consider A Belgian Block Apron For Your Home's Driveway In Yorktown, New York